Protection of people and property which engages dogs in the activity is a relatively new service. Why do more and more people decide to make use of this solution? Mostly it's due to the fact that a properly trained dog perfectly deals with tasks connected with property protection despite bad conditions, e.g. bad weather. Places such as construction sites, demolitions areas, as well as complexes of warehouse halls require 24/7 effective protection. Are the services offered by a security staff accompanied by dogs really effective also there?
  Security of land and other assets is one of the most important aspects of running a business for many entrepreneurs. Also, it's the one which may bring a lot of trouble. In the majority of cases it's only 24/7 security that makes us stop worrying about the object's safety. The solution to this problem is using a security company which has a lot of experience in dealing with this kind of issue.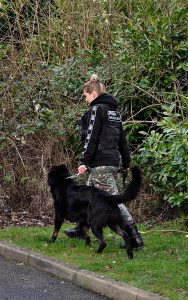 Especially the one which works with dogs, as these animal partners are not disturbed by mud, uneven, difficult terrain or wind. They exactly know what to do when at work,  regardless of weather conditions and the site location. What's more, the time of day does not affect the effectiveness of a guard who is accompanied by a trained dog.  It often happens that intruders manage to enter the premises in the cover of darkness, as well as thanks to  ingenuity and wit. However, when a dog is on duty, it's highly likely to thwart any burglary attempts.
See our offers Security Guard With Dogs
Where is human-dog protection the most effective?
We already know that human-dog cooperation in the security industry is an effective tool. The question is – where can it be used and who is it dedicated to? The answer is that both private persons and professionals may  make use of this collaboration. This service is currently the most common in places such as:
commercial objects – these are places where a variety of goods are stored. They can be stolen no matter how valuable they are. This may sound a bit surprising, but objects such as sweets, nuts or pins are interesting for thieves too.
construction sites and demolition areas – they seem not to require 24/7 protection, however, it's the other way round. After working hours, the equipment and building materials remain unattended and thus exposed to a robbery.
Private areas – they are also a frequent choice of various types of vandals, thieves, as well as the homeless who are looking for  a place to stay. If we have a property that we visit only occasionally, it is still worth protecting it so as not to be disappointed during one of our visits
If you want to find out what kind of additional services can be provided by a security guard working with a dog, please visit our website: https://brylantsecurity.co.uk/services/
A security guard accompanied by a  dog or electronic devices to protect the facility?
Many people wonder whether it is worth investing in the services offered by a security guard accompanied by a dog, or maybe it could be enough to install various types of electronic devices that are to protect both private properties and company premises.
Cameras and alarms  are the most frequently chosen forms of electronic protection. There are also several additional options, such as camera traps or a video intercom, especially when  we need to verify the identity of each person who intends to enter the property. Could these solutions be enough? They are certainly effective, but not enough to base the entire company protection system on them. They can complement the services provided by a professional bodyguard accompanied by a dog, though.
If you want to plan effective protection for your property, but you are not sure what actions would be best for you, please contact us, we will be happy to help you: https://brylantsecurity.co.uk/contact/